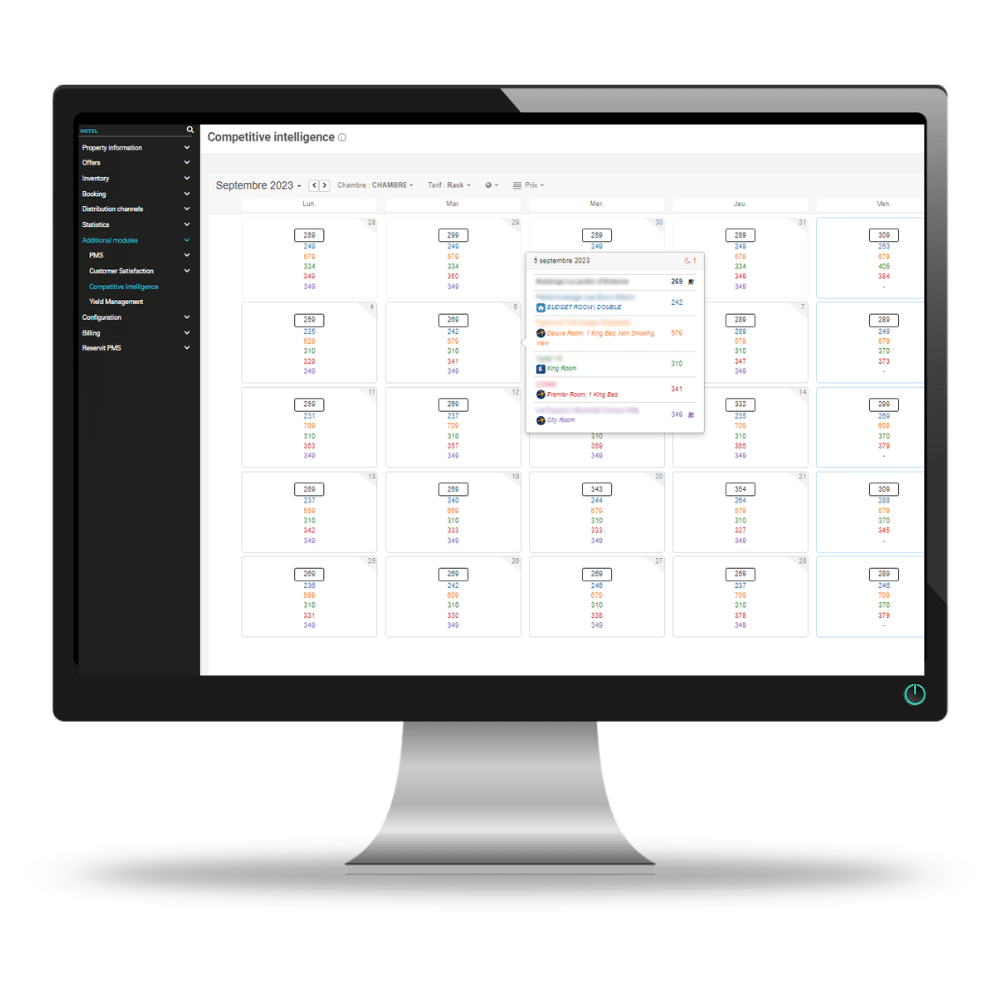 Why track pricing?
A hotel may be competing with you only in certain segments and at certain times of the week (weekends for example).
Price is the No.1 criterion for more than 60% of online bookers.
Anticipate this fluctuation and your competitors' pricing strategy with Reservit's price comparison module. It will give you a better view of the offers available on other distribution channels.
Our competitor watch module lets you compare your best prices – day by day – with your competitors'… In other words, is an tremendous advantage in being able to adjust your pricing and maximise profits.
A precise pricing comparison tool
Our solution has been designed to be easy to implement and intuitive to use. Simply access it from your Reservit Manager. By having fast and reliable access to important information, particularly hotel prices near you, you enhance your ability to acquire new customers.
This intelligence module allows you to automate the process of collecting information on your competitors' pricing policies. You improve your web performance.

Simple to use

Tracks 5 etablishments and up

Reports best daily prices over 30 days

Automated daily reporting
How does the Yield Management work ?
Pricing Recommendation is a great Reservit tool for optimizing your booking prices and maximizing your occupancy rates.
It lets you set up a price-based marketing strategy and differentiate yourself from your competitors.
To ensure maximum reliability, this module is based on a complex comprehensive algorithm that takes multiple criteria into account (occupancy rate of your hotel and that of your competitors, seasonality, etc…).
Optimise your booking prices with our pricing recommendation tool

A sophisticated algorithm for hoteliers

Reliable calculations based on multiple criteria (competitor offers, e-reputation, occupancy rates...)

100% customised tool with competitor information and room types

Compatible with the competitor watch tool

A dedicated automated or manual tool

Adds marketing strength to your pricing policy
A decision-aid and revenue optimization tool
Want to maximize your revenue? Pricing Recommendation is the best way of boosting your occupancy rate.
Set the ideal price with this module!
The Reservit algorithm incorporates your hotel's reputation, as well as your competitors' reputations and their pricing policies.
The tool adjusts to your environment and sends you a pricing recommendation. As the hotelier, you remain in full control of your pricing and are free to accept or reject the recommendations.
This means you can adjust your prices automatically or manually based on:
the occupancy rate of your hotel or guest house
seasonal flow of business
If you accept the recommendation, the new price is automatically sent to the distribution channels or your PMS using the connectivity.